First of all, there was SO much yelling at the beginning of this episode.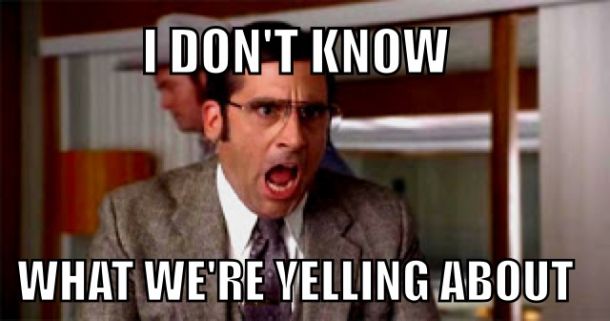 But actually.
Guys. It's Las Vegas. Who cares? NO, that sign from Ben is NOT romantic. THIS IS VEGAS. Home to fake Elvis, drive thru weddings, and well, ALL the debauchery.

OLIVIA: I'm not threatened by other women. Ben is my peace. (wry smile) I'm zen with Ben.
YUK YUK YUK.
If Sean Lowe's father could pass the fried Armadillo right about now, that would be great.
(To our friends that just joined us, a "Yuk Yuk Joke" is a corny, self-indulgent joke after which one makes the "Yuk Yuk Yuk" sound when they chuckle at themselves...)

This post is dedicated to a one Kimberly J. Irion.

It was her birthday yesterday, so very fittingly, Olivia jumped out of a cake for her. She also happens to be one of my MOST favorite people. (Ahem, Kimberly, not Olivia) I'm not one to gush (except for the time I saw Ty Brown from Ali Fedotowsky's season at the Green Hills YMCA - it's a story for another time, but TRUST ME, "fan girl" doesn't even begin to cover it) but I'm not joking when I say that when Kimberly and I met, after exchanging a brief introduction, the next words out of my mouth were "YOU'RE SO PRETTY!" One time I was over at her house to drop something off, she spontaneously fed me dinner and after dinner when we were talking, she suddenly lit up and said, "I think we need ice cream and fudge. Do we need that right now? I totally think we need that right now, come in the kitchen." I'm not kidding: this girl is a magical fairy and I a. DORE her. Happy birthday, Kim!!
That table disaster with the helicopter was hilarious. Chris Harrison said the intern had been fired. Update: it wasn't Intern Jacob, no one worry. (But that's only because he's worked his way up to Assistant Editor, a few seasons ago...) Nineteen extra points to JoJo for going in for the kiss, there. And then again when Ben was basically leaning against her face in the helicopter. Get those mics out of the way, JoJo. You go girl.
On the dinner date with JoJo and Ben, whilst listening to JoJo's voiceover about how "it's hard for her to open up," I turned to Johnny and Carolyn and I said, "Ok, do you think it's hard for you guys to open up? Would you say that you are hesitant to open up?"After a bit of discussion, I finally realized that my beef with the phrase "It's hard for me to open up," is that… WHO
DOESN'T
OPEN UP EASILY?! Good GRIEF. It's like the women who say "I'm just really looking for an AMAZING guy who will treat me right, I'm ready to find him."
LIKE WHO ISN'T?!
COULD YOU NOT?
BEN LOVES TO ALWAYS BE TOUCHING JOJO ALL THE TIME. ALL HANDS ON DECK EVERYWHERE AT ONCE.
JOHNNY: He and JoJo are so perfectly basic together.
GRACE: Funny, that. It's exactly what Carolyn said about Ben and Lauren B last week. I think I like him and JoJo a little better than him and Lauren B.... But I need Lauren B to go all the way for my fantasy team!
JOHNNY: She's so… It's not that she's a dime a dozen, she's... eleven a dozen, I guess.
GRACE: I think she'd be a good bachelorette.
JOHNNY: YOU GIVE AMBER A SHOT, WHY DON'T YOU?

Johnny loves the underdogs.
Group Date: Talent sho- SHUT UP.


Amanda, Jubilee, Caila, Lauren B, Amber, Haley, Emily, Leah, Lauren H, Jennifer, Rachel and...Olivia
First things first: they had to walk nineteen miles to get to this talent show. So much walking. All the steps. And apparently the girls have ZERO talent. Lauren H made a very strange sound about it. They also feigned shock and surprise at the prospect of performing in front of other humans...
CAROLYN: YOU'VE SEEN THIS SHOW BEFORE, YOU KNEW IT WAS COMING.
TERRY: "Las Vegas crowds are the toughest in the world."
GRACE: No they're not. Juries in Manitowac County are the toughest in the world.
JOHNNY: These are people who got paper tickets on the sidewalk. Like, "Here's your marijuana card, and here's a ticket to a show!"
HEMILY: "WE'RE IN IT TO TWIN IT"
JOHNNY: ....they're just SO. DEAD. In the eyes!
The only part of the Cake Debacle that's worth dignifying is Olivia's awareness of it. The whole thing was so... painfully... PAINFUL, but I honestly think it might have been worse if she came away acting like she crushed the whole thing.
And may we PLEASE take a moment to acknowledge that Olivia goes to the Boys II Men dressing room to have her panic attack. Casual. (THANK YOU, BOYZ II MEN ON ANDI DORFMAN'S SEASON, THANK YOU)
During her spectacular mope, Olivia whined, "I couldn't even look at him because he was so mortified," as she looked at Rachel, waiting for confirmation or denial (hoping for rapid contradiction) She was expecting denial. She got confirmation. Didn't help.

JOHNNY: You KNOW that single mom was totally encouraging her to do it the whole time. I'm telling you: single mom has evil eyes.
CAROLYN: Well I just need the single mom NOT to turn down the fantasy suite, otherwise I lose 75 points for my team.
Honestly, I go back and forth about Caila. She reminds me of every girl I never liked in school, (circa DEZ) but then I think she's really optimistic and I'd really want her to be on my team for a group project. She's the kind of girl in class who would be so smiley and positive that she'd make me feel slightly remorseful for being so cynical and sarcastic. But then I'd realize that my jokes made the teacher laugh harder, so I'd keep up the sarcasm.... I'd still pick Caila to be my lab partner, though.
(We paused here, for Carolyn to answer the door for Dominos. 'Sorry," she said as she came back in with two boxes and a small diet coke, "I thought I got a two liter. I got a twenty milliliter." For the record, Carolyn was the girl in class who made the same jokes with me AND whom I wanted for a lab partner.)
Making poor food choices since 2007..... Pass the cheesy bread.
Olivia has a two fold plan right now:
1) Let Ben know that she put herself out there.
2) Let Ben know that SHE knows that she bombed.
My thoughts on this:
1) Putting herself out there: Sure. Go ahead. The producers probably coached her on this one. Why not slightly cover up an embarrassing performance by reminding him that you're laying it all on the line for love?
2) The bomb: This- THIS, my friends, is where she went so terribly wrong. Is it a great trait to be able to laugh at yourself? YES. Olivia could have acknowledged the bomb and MOVED ON.
...but she didn't. She talked about it and talked about it and cried about it and talked about it and- SHUT UP OLIVIA I AM A HUNDRED YEARS OLD WAITING FOR YOU TO FORGET ABOUT THIS AND MOVE ON.
No slowin' down now: she's a runaway train.
JOHNNY: We missed out. WE MISSED. OUT. You guys, I would have married EITHER OF YOU at the hands of Becca and Ben.
CAROLYN: WELCOME TO THE WEDDING.
JOHNNY: Becca looks like a cult bride right now.
CAROLYN: A Manson Bride.
JOHNNY: A little too old, I have to say. Sorry.
Loving this fake Bible that has the vows taped into it.
BECCA: "It's different than last season."
CAROLYN: Is it, though? Cause last time you got sent home in a kimono...
GRACE: IT WAS A RED VELVET DRESS.
JOHNNY: NEVER FORGET THE RED VELVET DRESS ON THE FARM IN IOWA.
Emily And Haley without make up right now… YOU GUYS. This is why I don't wear a lot of make-up. I will NEVER- I
REFUSE
to be as strikingly different without make-up. I don't care if not wearing make-up means I look like Chernobyl happened while I was asleep, if there is a striking, shocking difference between you made up and you made down, you need to reevaluate some things...
BEN: "Haley and Emily's mom has been great."
GRACE: And this plate wall isn't bad, either.
CAROLYN: And this is great for the budget, because we don't even have to pay for a car to send the one twin home.
This rose ceremony is the most I've liked Amber's hair, during this season, last season and Bachelor In Paradise COMBINED.
Granted, Olivia is NUTSO MAGEE. But let's go ahead and acknowledge that she had a piece of text that was totally cut together. "I read a lot of romance novels where it all just comes together, and that would be GIGANTOR for me…" This was pieced together, and it wasn't even a smooth job, and I blame Assistant Editor Jacob for not catching it.


Roses went to: Amanda, Lauren H, Jubilee, Emily, Caila, Jennifer, Leah, Olivia


YOU GUYS OLIVIA DROPS THE TEEN MOM BOMB NEXT WEEK AND I AM SO STOKED.


If you're a bird, I'm a bird...